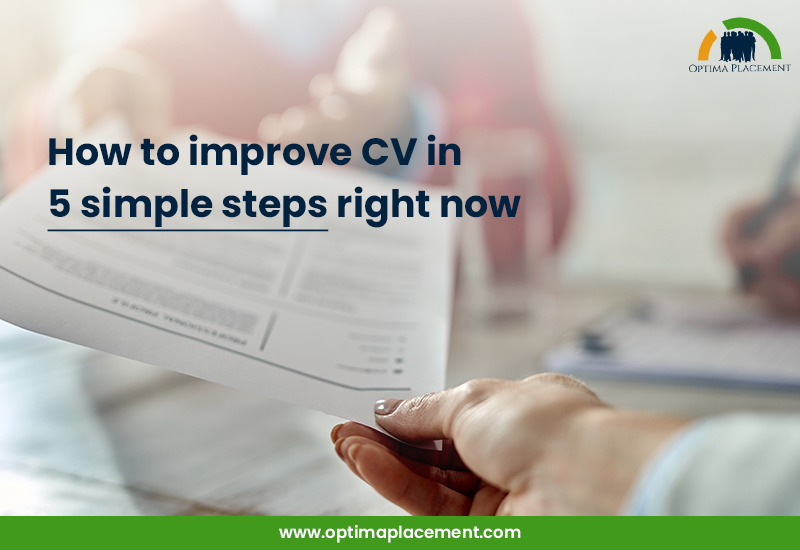 How to improve CV??
How to improve resume??
How to write a resume??
If you are looking for answers to these questions or similar questions, this blog is for you. CV is the first thing recruitment agencies and employees see. Being a Resume as the first impression of yours on them it must be short and tight with all the qualities and work experience you carry. As they go through thousands of CVs daily, making your resume stand out from the rest is essential.
If you are serious about getting a job or being a part of a big MNC, you need to make your CV stand out from the rest. This does not mean you need to add style to your Resume. This means you have to provide the information so crisp and precise that the recruiter can understand your experience and work records and classify whether you are a perfect fit as per the JD (Job Description) or not. If your Resume is messy, hard to read, or does not follow the standards, it will be difficult for a recruiter to go through it and identify all the essential information. So to make your CV stand out from the rest, it needs to be simple, easy to read, neat, and professional.
As Optima Placement is one of the best recruitment agencies in Dubai, we receive hundreds of CVs daily from various promising and potential candidates full of enthusiasm. Today we give you a few pointers about how to write a resume by making little changes in your CV and making it stand out from others.
Trim and justify your text
When an employer announces a job opening, thousands of potential job seekers apply for the same job. Employers want to see relevant information quickly to shortlist all the attractive candidates by showing them all the information clearly and succinctly.
Though you might find it tempting to stack everything, which you think might make you seem a very potential choice, this is a big lie. Using plain, simple English, avoiding jargon and slang, and catching their attention with facts will be an optimum choice. Apart from that, you can overwhelm them in your interview.
Presentation is the Key
Presentation is the Key; remember to present only the content essential to your CV. To make your Resume presentable, you need to space them evenly and separate the content evenly to make it eye-catching.
You can use bullet points instead of presenting the data in a sentence; this makes your content less wordy and more presentable. Avoid using fancy font style; use simple Arial text to make it comfortable to read. You can also use Bold, italics, and underlining to make it catchy.
Highlight the Keywords
With the advancement in the digital industry, many recruitment agencies use various software to filter resumes before filtering them personally. Using these keywords helps you be shortlisted from the software.
You can search for similar jobs to find the right and specific keywords. This also helps you have a word with the people working in the same job profile to gain experience and knowledge, which is very helpful if you are a fresher.
Add personal Statements
Adding personal statements is exceptionally effective in connecting with the recruiter. Keeping it short and crisp and highlighting all your experience with skills acquired over the years might make them understand that you might be the right candidate for the job. You can also state what skills you learn while working for the previous company.
Entitle your achievement
Saying you increased the content reach or the sales of a product is easy, but specifying the exact numbers will leave a great impression on the employers if you mention that increased sales from 150000 to 200000 will leave a great impression. If you work in the management team and the changes you make are implementation or process-related, then you can state them by stating the benefits they made on the business. You can also note if you helped in revenue generation or cost-saving for the company mentioning that will be highly recommended in the CV.
Wrapping Up
Optima Placement is one of the top recruitment agencies in India & Dubai, helping several potential and enthusiastic job-seekers to get their dream jobs. Being one of the top UAE recruitment consultancies, we go through several CVs daily. The sole purpose of this blog was to educate budding job-seekers on how they can stand out from the rest and what mistakes they can eliminate while building a resume. As optima placements hire job-seekers for all kinds of jobs in the Middle East & India, we know how potential the India & UAE market is when it comes to freshers and beginners.